We customize different types of systems: do you already know which one is right for you?
Ask for info
We offer a wide range of automatic and semi-automatic machines with high technological content suitable for any type of palletizable product for both high and medium operating speeds.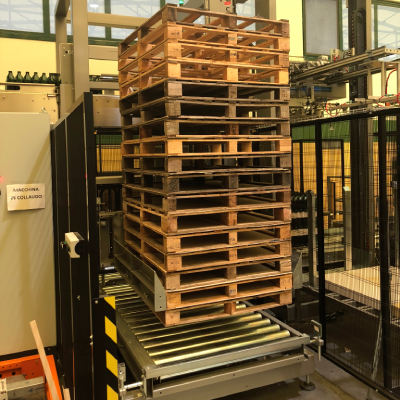 We provide palletizing solutions from the simplest and cheapest to the most performing and customized. We also produce robotic palletizing systems that are characterized both by their great modularity, operational versatility and by the excellent rationalization of the occupied space.
Our range starts from Cartesian systems and ends with fast layer palletizing robots, passing through traditional single-column or double-column machines and also magnetic head palletizers. Push or magnetic head depalletizers with bottom or top loading or automatic robotic depalletizing systems. A type of high-tech machine that is characterized not only by the excellence and quality of the materials used, but also by reliability, operational flexibility, ease of use and maintenance.